In this new edition of I have to say it, the dancer and former talent of TC, shared with this newspaper your manifest.
1. I am an allologist, on television I liked being discovered. I started as a dancer in En contacto, I've been dancing since I was 10 years old. I have done performing arts. I have theater foundations and I also learned taichi and yoga".
2 "My first challenge in I am the best (TC) was to characterize La Vecina, Tomás Delgado congratulated me. I have done parodies and imitations, I have sung with Vico C, I trained with Yanina Murga, but even so I do not consider myself an actor with a title that guarantees it, nor am I a super dancer, but I could be a showman.
3 "Television is ephemeral. Today you are, tomorrow you are not, today they recognize you and then they forget you, they love you one day and the next they hate you. That's why I don't dedicate myself to half a hundred percent, because unless you are Don Francisco you can't live off the screen for 60 years.
Mar: "Yes, I think the meeting with Ha*Ash will be possible"
Read more
4 "I have learned many lessons, the main one is that trust cannot be given to just anyone, with me you have to earn it".
5 "Like 'lightning' I have not broken anyone, They haven't even broken me. I am not aggressive, but calm, even in massacres (laughs). Thousands of things have been said about me, but I prefer to take the phone and clarify them."
6 "I'm not scratchy, but sane and more so at a certain age. The Ray of 21 years in the clubs has passed.
7 "I would not rule out entering politics, because for me it is social assistance, but you have to prepare. Of the people who are now candidates, I would only vote for Úrsula Strenge".
8 "It would be cool to shave Daddy Yankee in my barbershop, I would dye Ronald Farina's hair and do an ABC to Henry Bustamante, I would change his look for a more youthful one."
9 "I've had it all in my relationships. I have been with striped women, because I am very patient and I can be tolerant. They all have their character, but I have tried to make them happy and I know how to understand the crazy ones, happily they have never scratched my car".
10 "The red ones catch my attentionmainly white-skinned women.
11 "I fell in love with a 'gringa' and it went well, it taught me many things and vice versa. I learned the English language more, sometimes clients from abroad come to me and they don't speak any Spanish".
12 "Only if they touch my daughter, my mother, my father or my sister I transform into another person, I get fat and it's another move. The neighborhood leaves me, I'm from the street, my key. Although I have polished myself, that is my essence and it is revealed when they mess with mine."
13 "On television I have friends, but I try that my friends are not from the middle, because they are not always there".
14 "Because I like 110-volt electricity, I would have sex in an electric chair. Downloads would not be done to someone in particular, everyone is free to do and react as they want".
15 "You will never hear me brag about myself, but I would take Jennifer Lopez to the moon, I would electrocute her with pleasure, I love her."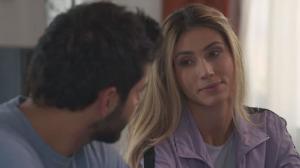 Lina Cardona premiered comedy in Ecuador
Read more
16 "The smell of a person makes me like a hammer. I get carried away by it a lot, I have to smell it. If her pH doesn't go with me, I'll leave her there and put a cross. I am very olfactory".
17 "I like to smell the neck, the handsI let myself be carried away by a woman's hair and it doesn't necessarily have to be blonde".
18 "Like Dracula, I have sunk my fangs. I don't suck the blood, but it has coagulated (laughs). I bite back and buttocks, logically, and leave my mark".
19 "I don't know if it will be unforgettable for those who have been with me, but I have made a difference, because behind closed doors I am like a monkey… because of how tender and mischievous (laughs)".
20 "I have an excellent friendship with the mother of my daughter, who has her husband. Of my exes in the middle, I get along with Sofía Caiche, with whom I can have a coffee without any problem. She was my dance partner in I am the best".
21 "I am a man who overcomes everything quickly. I do not regret anything. I get more involved in my daughter and in my business. I have many new projects."
Nayelhi González: 5 things you did not know about the new Miss Ecuador
Read more
22 "If I return to television it would be in a variety space, where there is humor and parody. I've been In Touch and House to House. Claudia Camposano is doing wonderful things."
23 "My barbershop is expanding. I, more than a talent, see myself as a brand. I have my training center. If I want to tomorrow, I'll put on a car washer or a local empanadas ".
24 "I have not a single hair of fool, I already fell. The weirdest thing I've ever found in someone's hair, aside from dandruff and alopecia, is lice."
25 "When you meet me, they know that my joy makes people like me. I'm a Wednesday clown, funny, not obnoxious."
26 "My daughter is already 12 years old and I try to be a good example for her, that she sees in me not only the Ray of television, but also the hardworking and business man who, in addition, treats her like a queen. The man who one day is for her will have to be better than me.
'Rayo' Viscarra: "Since I like 110-volt electricity, I would have sex in an electric chair"