An Iranian appeal court has upheld an eight-year prison sentence against a Frenchman convicted of espionage charges.his lawyer said Tuesday.
Benjamin Briere was arrested in May 2020 after taking photos in a national park with a recreational drone. His lawyers and his family have accused Iran of holding him "hostage."
The lawyer, Philippe Valent, said that Briere's case was being "instrumented" by Iranian authorities.
"It is shocking and dramatic," he told AFP, adding that the verdict coincided with the resumption of negotiations between Tehran and Western powers over Iran's nuclear program.
"This trial is a sham, the hidden part of a big issue that is beyond us," Briere's sister, Blandine, told AFP.
The appeal court explained its decision by accusing Briere of being "an agent in the service of an enemy state" in its verdict, which was translated by Briere's Iranian lawyer, Valent said.
Briere, 36, who was convicted in January of espionage and propaganda against Iran's Islamic system, had appealed the sentence.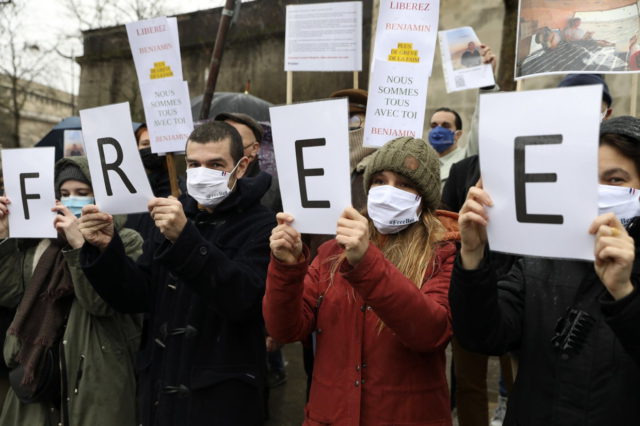 His lawyer said that he had not even been given access to the full accusation against him.
The verdict against Briere comes as Iran and world powers try to reach an agreement at talks in Vienna on reviving the 2015 deal on Iran's nuclear program.
Top US and Iranian negotiators were scheduled to start indirect talks in Qatar on Tuesday to try to remove obstacles blocking attempts to revive a landmark nuclear deal.
Nationals of the three European powers involved in talks over Iran's nuclear program – Britain, France and Germany – are among the foreigners held in Iran.
"We call on the French, American and British authorities to make the release of the hostages a precondition for the resumption of negotiations", Valent said.
During his original trial, Briere's sister, Blandine, told AFP that her brother was a "political hostage" undergoing a "parody of justice".
"It is a political trial, and it is useful for Iran, which is sending a message to the French government," he said.
The French Foreign Ministry then called the verdict "unacceptable", saying Briere was a "tourist".
Three other French citizens are also detained in Iran.
French-Iranian researcher Fariba Adelkhah was jailed for five years in May 2020 on a national security charge.
Two other French citizens were arrested in Mayaccused by Iran of having entered the country with the aim of destabilizing.
Paris has denounced that claim as unfounded.
Iran insists that all detained foreigners are tried according to national law, but has repeatedly expressed its willingness to carry out prisoner exchanges.
Iran confirms the sentence of eight years in prison to a Frenchman for espionage